Agrola 400 VT / 12m
Agrola 400 VT mounted boom sprayers are intended primarily for small specialized farms, which value high quality components combined with practical construction solutions. The sprayers are equipped with a manual boom with a working width of 12 meters, polyethylene tank with a sprayer washing / rinsing system and folding maneuvering wheels.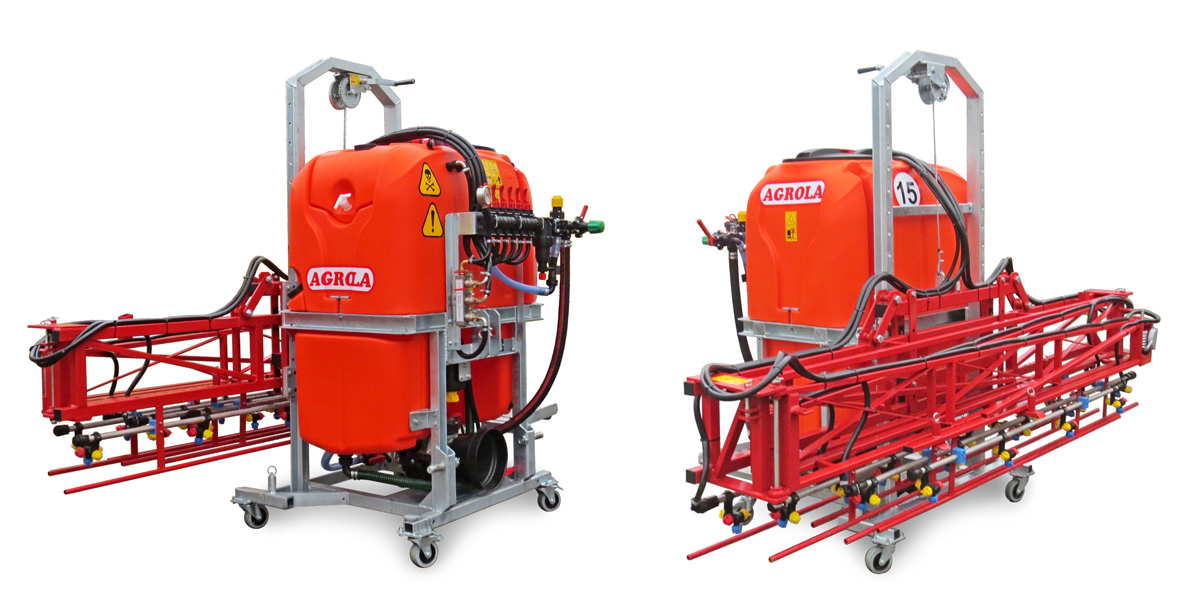 Boom - working width 12 meters, mechanical opening and closing of the boom set, hydraulic lift system (in the range from 0.5m to 1.7m). Mechanical self-leveling system with optional hydraulic cylinder for tilting correction. Single or triple nozzle holders with anti-drip valves are installed on stainless steel pipe.
Pump - diaphragm, manufactured by a renowned Italian company Annovi & Reverberi.
AR115bp (max flow 114 lpm, max pressure 20 bar)
Control unit - according to the clients' needs, we offer several equipment options:
Arag constant pressure manual control unit
Arag proportional manual control unit
Arag electrical control from the tractor cabin (main valve ON/OFF) + proportional manual control unit
Arag electric control unit
Tank - made of high quality polyethylene, contains three parts: a main tank with a nominal capacity of 400 liters, a tank of clean water for rinsing the circuit and a tank of clean water for washing hands.
Frame and boom - specially designed from high quality structural steel that are protected against corrosion by powder painting.
Lighting system (optional equipment) - lighting that gives visible light from a distance is a necessary addition when the machine drives on roads. Lighting system installation - rear, composite LED lamps (position, directional and stop lights) + warning triangle for agricultural machinery.
Drive shaft (optional equipment) (torque 400Nm; length 800mm)
* - to drive the sprayers it is necessary to use a drive shaft that has the CE mark and safety shield kit.
Parameters:
Working width: 12m
Required power [HP]: -
Max RPM 540
Max allowed operating pressure 10bar [1MPa
Max allowed travelling velocity 15km/h
*- power demand depends mainly on the terrain conditions. In a mountainous terrain or wetlands, it may be necessary to use tractors with more power.
Overall dimensions:
Agrola 400 VT/12m - Height - 2,0m | Width - 2,8m | Length - 1,4m;
Unladen weight - 345kg | Max authorised weight - 800kg;
*- some of the given dimensions and parameters may differ from the actual ones due to the type of equipment used, e.g. control unit type, etc..
* - some of the components described or shown in the pictures are optional equipment offered at an additional cost.
* - the manufacturer reserves the right to introduce changes related to the continuous improvement of the structure and to remove individual models from production.